Abstract: Philippe Pierret
From Beth hayim to Museum – from survey to exhibition: a journey into funerary culture
Philippe Pierret (Université Catholique de Louvain, Belgium)
I am particulaly happy and honoured to be able to share a piece of research that I wish to dedicate entirely to Professor Gérard Nahon z"l, recently departed. Gérard was a wonderful guide in Jewish history in general, and one of the greatest specialist in funerary epigraphy, in particular. He was a passionate researcher, an unremitting lecturer and writer as I could experience during six years of a PhD taken at the Vth section of the religious sciences department of the Ecole Pratique des Hautes Etudes (Paris-Sorbonne).
Gérard Nahon started to study Bayonne's communities more than 50 years ago. This is why I decided to present you  my contribution on this very subject. Indeed together with an Aktion Sühnezeichen Friedensdiesnte team of a dozen European volunteers, and after having surveyed and restored the old cemeteries of Arlon (Belgium), La Ferté sous Jouarre (France), Luxemburg, Vantoux (France), Boulay (France), Créhange (France), we decided, in 2010, to tackle the huge beth hayim of Bayonne.  We are presently  busy preparing an eight and last annual  summer camp next August.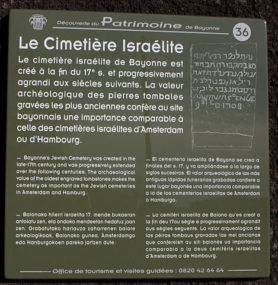 My paper will provide details on the genesis, the motivation, the goals and results of this important funerary heritage campaign. Through a series of colorful slides we shall discover the peculiarities of some Basque Country Jewries, with a focus on the community of Bayonne. Pedagogical, technical and esthetical aspects of the epigraphic and digital inventory will be substantially treated.
History, sociology, epigraphy, linguistics, history of art, symbolism and  other topics will be reached knowing that this unique set of burial, the second largest sephardic burial place in Europe after Amsterdam's Ouderkerk, covering a period of five centuries, is still today a subject of controversy between the Bayonne city authorities and the Jewish community. A recurring argument indeed concerning economy and tourism versus culture and religion.
We will look a the way volunteering helped, with obvious efficiency, and for more than 13 years, a single passionate itinerant researcher —the author of this paper— and demonstrate how history, epigraphy, and funeral architecture can become, against all odds, a truly attracting exhibition subject for both the specialist and the general public.