Workshop: Letters in the Dust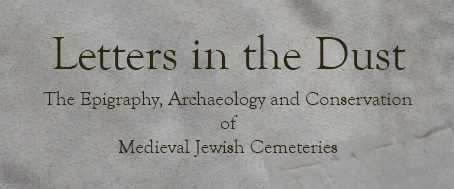 Medieval Jewish cemeteries are found at the crossroads of epigraphy, archaeology and conservation, three disciplines that should, but do not easily, intersect. Much of the epigraphic evidence has been decontextualized when Jewish medieval gravestones have been uprooted and reused as building material. Fortunately, many of them survive in non-original locations, their inscriptions still visible. Conversely, for understandable religious sensitivities, archaeological excavations are not conducted in burial grounds whose headstones are still in situ. Thus, data is analysed as two distinct sets: textual or material, though scholars could benefit from engaging with each other's records. This workshop provided a forum for collaboration, ultimately reuniting – although figuratively – the medieval funerary inscriptions with the men, women and children they sought to commemorate.
This academic workshop was kindly sponsored by the European Association of Jewish Studies, through its Conference Grant Programme.
The workshop took place at Utrecht University, on 7-8 November 2016, and included thirteen participants from nine different countries.
The workshop is now exhibited to the public on this website, with abstracts of all the papers, accompanied by slides of the PowerPoint presentations, and a discussion page open to visitors worldwide, where comments, questions and dialogue may continue.